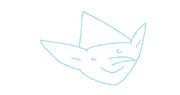 Hi! I've been a fan of the show since 2006. It never occurred to me until recently (...in 2013...) that there would be a wiki since the fandom seemed so small. Never thought i'd want to edit a wiki much, but it might be fun to add whatever i can :) Here to correct grammar and small errors in facts and names. I also just love the show and characters a lot, they're fun relatable for me.
Decided to pick the name 'WhammyElf' just cause it sounds fun to say. Aforementioned magical creature presented in-show does not actually resemble the picture presented in this article, but that's alright, it's not supposed to : P
For anyone interested in my fanwork, check out FusionJune, it's a crossover, tlatojl and cartoons specific blog but i reblog my own fanart too, so check it out if you're interested!
Also, just a reminder that I'm only human. Can't edit or reply as fast as I can draw ;)
My favorite pages