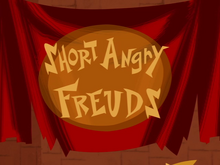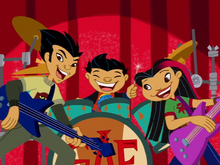 Short Angry Freuds is the band that June plays in with her two brothers. They practice in their house basement.
Members
At one point, a goblin named Leonard wanted to play oboe in June's band, saying he'd been practicing a lot. After June told him it's a human band, he suggested he could try the triangle, or spoons.
Juniper as guitarist and lead vocalist.
Dennis as bassist and supporting vocalist.
Juniper: You can't join, because you're a monster and it's a human band. Leonard: But I got da music in me!
History
In season 1 episode Enter Sandman, they play "I Sing The Body Electric"[1] from the film Fame. 
In season 3 episode, Citizen June, to impress at a student president debate, the band performs dressed up similar to the band KISS, with Juniper sporting her dragonfly t-shirt logo as face paint. They sing a version of Auld Lang Syne[2] on the school stage.
Dennis and June seem to have slight disagreements over how the band should play but they seem to reach an understanding when they're eventually on stage. Ray Ray seems to be getting along with both of them the most while also being understanding of why June skips out on band practice more, making him the most laid-back in the group.
Juniper states that their parents made them sound-proof the basement, hinting that their band practice might be a little grating for parents.
The band has only had two appearances over-all so it is unknown what the band would be like after Sealed with a Fist wherein Dennis became more involved with the magical world.
Appearances
References