Jurassic World: Dominion Dominates Fandom Wikis - The Loop
Play Sound
"June makes a splash when she heads to Aqualandia to find out why the magical water from Orchid bay is disappearing at an alarming rate. The girl could use a little rest after that, but ends up having to take Lila the Sasquatch to a slumber party at Jody's to teach her to fit in. Finally, the origin of the magic veil and the Te Xuan Ze is revealed when Auntie Roon returns with evil plans for June. Little does she know, you can't stop the girl!"
―-Season 3 description on iTunes.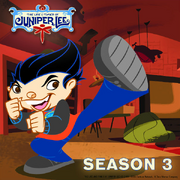 The third season of The Life & Times of Juniper Lee brings in new and old villains as well as explains some more backstory and lore of the show, as well as changes in relationships. Episodes were released from August 23rd, 2006 to December 15th, 2006 - debuting with Who's Your Daddy? and concluding with Every Witch Way But Loose. The last three episodes were released on the same day in the States, and internationally released much later continuing the series into May 2007.
The season is not available in any DVD releases. The last two episodes were released online on the same day, on Cartoon Network's official U.S. website. The entire season can currently be bought at iTunes, released in 2010.
It was preceded by season 1 and season 2 and non-chronologically followed up by five shorts.
Click here to go back to the full episode list.
Season 3 Episodes 
The below list features official episode descriptions and release dates from iTunes.[1] (Note: The list features airing times as they are listed on iTunes as the official dates and do not feature the airing dates from other countries or Cartoon Network branches (such as airing dates in Swedish Cartoon Network or Cartoon Network Latin America) which users have input on other sites.)
No. in

series

No. in

season

Title
Written by
Storyboard by
Original airdate
Production code
28
1
"Who's Your Daddy?"
Marsha Griffin
David Chlystek & Jill Colbert
August 23, 2006
301
Marcus gets jealous when a new boy takes a shine to Juniper.
29
2
"Water We Fighting For?"
Tim McKeon
Fred Reyes & Alex Que
August 30, 2006
302
Summer fun is thrown for a loop when someone is stealing water from Orchid Bay.
30
3
"Feets Too Big"
Judd Winick
Patrick Kochakji & Jennifer Coyle
September 8, 2006
303
Juniper 's camping trip is gets interrupted when her parents are captured by the legendary BIGFOOT.
31
4
"Citizen June"
Marsha F. Griffin
Jill Colbert & David Chlystek
September 15, 2006
304
Juniper runs for class president while the entire school is threatened with destruction.
32
5
"Make Me Up Before You Go-Go"
Michael Jelenic
Fred Reyes & Alex Que
September 27, 2006
305
Juniper and the gang have a slumber party, but an uninvited guest drops by.
33
6
"Out of the Past"
Marsha F. Griffin
Patrick Kochakji & Brian Larsen
September 29, 2006
306
An evil Te Xuan Ze escapes imprisonment, and Ah Mah and June must stop him before he takes over the entire realm of magic.
34
7
"Sealed with a Fist"
Eric Kentoff
Dave Chlystek & Jill Colbert
November 3, 2006
307
Boomfist returns to thwart a league of escaped comic book bad guys.
35
8
"Little Big Mah"
Kevin Seccia
Fred Reyes & Alex Que
November 10, 2006
308
Ah Mah is magically turned into a child. She and June must fight side by side to turn her back.
36
9
"Te Xuan Me?"
Judd Winick
Patrick Kochakji & Rafael Rosado
November 24, 2006
309
Juniper disappears and it falls on Ray Ray to take charge, find his sister and save the world.
37
10
"Food for Naught"
Eric Kentoff
Dave Chlystek & Jill Colbert
December 1, 2006
310
Something is turning all the monsters in Orchid bay into feroscious beasts.
38
11
"A Helping H.A.M."
Tim McKeon
Alex Que & Fred Reyes
December 15, 2006
311
Monroe is captured and forced to aid the evil organization known as H.A.M., HUMANS AGAINST MAGIC.
39
12
"The Kids Stay in the Picture"
Kevin Seccia
Patrick Kochakji & Rafael Rosado
February 6, 2007
312
Ophelia enlists the gang to help her finish her student film. 
40
13
"Every Witch Way But Loose"
Marsha F. Griffin
Dave Chlystek & Jill Colbert
April 9, 2007
313
An old enemy returns and brings out the " dark side" of Juniper Lee.
References