We're Getting Mutants in the MCU - The Loop
Play Sound
"When you're a super-tween like Juniper Lee, you're bound to get a reputation for being super weird. But that's only because you have to deal with bizarro stuff like hiring a helper elf as an assistant, putting a stop to a mummy's new restaurant business, and speaking at a magic convention where monsters are your biggest fans. Sometimes a girl's just gotta go with the flow!"
―-Season 1 description on iTunes.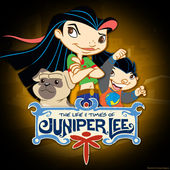 The first season of The Life & Times of Juniper Lee introduces the show's main characters, its monster-a-week format and several villains. Episodes were released from May 30, 2005 to August 21, 2005 - debuting with It's Your Party and I'll Whine If I Want To and concluding with Monster Con.
The premier of the season was advertised during Cartoon Network's Cartoon Summer block with additional episodes being advertised over the summer with some promos[1]. No shorts were released during the season airing.
A DVD of this season was released by Madman Entertainment on 8th of September, 2011. [2]
The entire season can currently be bought at iTunes, released in 2010.
It was followed up by season 2 on January 14th, 2006, five months later.
Click here to go back to the full episode list.
Season 1 Episodes 
The below list features official episode descriptions and release dates from iTunes.[3] (Note: The list features airing times as they are listed on iTunes as the official dates and do not feature the airing dates from other countries or Cartoon Network branches (such as airing dates in Swedish Cartoon Network or Cartoon Network Latin America) which users have input on other sites.)
Season One (2005)

 
No. in

series

Usa

No. in

season

Canada

Title
Written by
Storyboarded by
Original airdate

USA and Canada

Production code
1
1
"It's Your Party and I'll Whine if I Want To"
Judd Winick
Frank Squillace
May 30, 2005

September 4, 2005

101
June has been doing her Te Xuan Ze thing for just over a month and it's become a real hassle. She's managed to flake out on her friends on a regular basis and has managed to acquire a reputation for being weird. And now, one of her best friends, Jody, is having a birthday party. June of course gets called way because the Leprechauns have let loose the Racatan. Despite begging Ah mah to help out, June is forced to skip the party and save Orchid Bay City again.
2
4
"I Got My Mummy on My Mind and My Mind on My Mummy"
Judd Winick
Brian Larsen & Fred Reyes
June 5, 2005

September 25, 2005

104
June and Marcus (her secret crush) are given a class assignment to do a report on a mummy. Trouble arises when the mummy is brought back to life, raises the dead as a work force, and opens restaurant chain. June must stop the mummy from permanently raising his army of the dead, and finish her report with Marcus without blowing her opportunity to get him to like her.
3
2
"It Takes a Pillage"
Tim McKeon
Vincent Edwards & Jason Park
June 12, 2005

September 11, 2005

102
When June's school chorus goes to a nursing home to perform, Roger finds half of a cursed Viking medallion. The entire chorus (including June's friends) are possessed by the spirits of Nordic Vikings. Her possessed friends then take to rampaging through the city to find the other half of the medallion, thus breaking the curse, and take up permanent residence in their bodies. June's hoping to nip that in the bud.
4
3
"New Trickster in Town"

Marsha Griffin

David Chlystek & Shannon Eric Denton
June 19, 2005

September 18, 2005

103
Every year on April fools day, Orchid Bay City is over-run by practical jokes. What all the citizenry don't know is that it's magic at work-- the Trickster. A harmless creature who plays jokes on the city for one day. Unfortunately all the magical creatures have gotten a "bad vibe" from this years pranks. They begin to bug June incessantly, at home and at school to look into. Since no one can see these creatures, it's making for embarrassing situations. June will discover that the Trickster has been possessed by the great god, Loki, who wants to turn the city into an evil misshapen fun house and enslave everybody. So, June has to stop a 12,000 year old god. No sweat.
5
5
"Not in My Backyard"
Judd Winick
David Chlystek & Shannon Eric Denton
June 26, 2005

October 2, 2005

105
A strange monster called a Batoot is separating from its herd. The Batoot is bad luck and causes mayhem in its wake. For the city's safety June has to baby-sit the creature until she can return it to its herd. June's brother Ray Ray is ecstatic, he finally gets a pet of his own. June is less than please as the Batoot continues to eat everything in the house. And there's two demon bikers who show up to steal him. It's a long night.
6
6
"Enter Sandman"
Tim McKeon
Jim Schumann & Jill Trousdale
July 3, 2005

October 9, 2005

Thanksgiving Special In Canada

106
When June's friends and family become increasingly more exhausted, June enters the Dream Realm and discovers they are being enslaved by a upper crust demon (the Sandman) to build a giant skyscraper into the waking world (so he can rule that as well). After checking out her various friends' wacko dreams, June battles the demon. The fight ends with a wild chase through various dreams in various locales. 
7
7
"Ding Dong, the Witch Ain't Dead"
Marsha Griffin
Vincent Edwards & Jason Park
July 10, 2005

October 16, 2005

107

Auntie Roon, an ancient and cranky fish-riding witch, is returned from four hundred years of banishment. Her demon emancipators require just one favor in return, an entire mall full of children. With all her friends and half the kids in town held captive by Auntie Roon, it's up to June to pull a DIE HARD and get them out.

8
8
"I'll Get By with a Little Help from My Elf"
Tim McKeon
Alex Que & Harry Sabin
July 17, 2005

October 23, 2005

108
June is overwhelmed balancing her life with being the Te Xuan Ze until a "helper elf" appears who at first seems to be a blessing and then... not so much.
9
9
"The World According to L.A.R.P."
Tom Franck
Fred Reyes & Brian Larsen
July 24, 2005

October 30, 2005

Halloween Special In Canada

109
Demons plot to kidnap Ray Ray and hold him ransom for a magical goblet. They mistakenly kidnap Dennis, who thinks the whole thing is part of a live-action role playing game.
10
10
"Magic Takes a Holiday"
Marsha Griffin
David Chlystek & Shannon Eric Denton
July 31, 2005

November 6, 2005

110
Edipan is a magical holiday where all creatures of magic take a break. No magic, good or bad. That goes for June as well, so she's free to go on her annual trip to Drama camp. When the camp director, Dame Edna Rothchild breaks her leg and is unable to direct, June's friend Ophelia uncharacteristically volunteers. It all goes well until a giant snatches up June, the lead in the play, on opening night.
11
11
"Take My Life, Please"
Marsha Griffin
Fred Reyes & Brian Larsen
August 7, 2005

November 13, 2005

111
When an 11 year old "good witch" comes to Orchid Bay, she manages to do a better job at fighting evil than June. And everyone seems to like this sugary sweet, Barbie doll, a whole lot more than June. So, June says, " Fine... you want my job--take it!"
12
12
"Meet the Parent"
Tim McKeon
Jason Park & Vincent Edwards
August 14, 2005

November 20, 2005

112
Monroe's fun-loving Dad, William, comes to visit and criticizes how his son does his job as advisor to the Te Xuan Ze. However, when the seasoned veteran tries to help June, he accidentally endangers her.
13
13
"Monster Con"
Judd Winick
Alex Que & Jill Colbert Trousdale
August 21, 2005

Summer Season Finale In USA

November 27, 2005 Fall Season Finale In Canada

113
Every three years, magical creatures from all over the world come together for the Convergence - a three day gathering to further the peaceful nature of magic - and as the Te Xuan Ze, June must address the attendees as Ah Mah has before her. In truth, the whole event is like a giant comic book convention and June has to deal with creatures asking about her famous grandmother. It all goes bad when a secret government group ensnares the entire convention, hoping to wipe out magic in one fatal swoop. It's up to Ah Mah to come out of retirement to save the day.
Promotional images
Videos
References