Jurassic World: Dominion Dominates Fandom Wikis - The Loop
Play Sound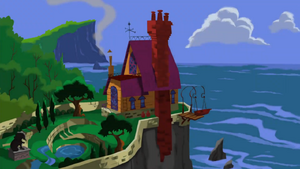 Jasmine's house is a location prominently featured on the show. It is owned by Jasmine Lee, the previous Te Xuan Ze. It is located on a seabank overlooking the beach and pier of Orchid Bay.
History
Jasmine's house is featured since the first episode of the series, It's Your Party and I'll Whine If I Want To. Progressively, more rooms and perspectives have been revealed.
Floors, Rooms & Spaces
These are descriptions of the floors and rooms in Jasmine's house. Each floor, room or space has its own use.
Ground Floor
This floor has several basic rooms, such as the lounge (living room) and foyer. It also houses a majority of the statues of previous Te Xuan Ze, such as Jasmine's father's or her own. The statue gallery connects with the next floor.
First Floor
This is where the kitchen resides as well as a few other Te Xuan Ze statues and some closed rooms.[1]
Attic
This is where Ah-Mah sleeps. This space also holds all her objects and items about the history of magic, such as the origin of the Veil and the Magical Elders as well as many magical items for protection or to alert her of unlawful activity in her house.[2]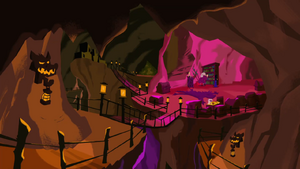 Basement
This is in essence the base of operations of Jasmine's work as previous Te Xuan Ze, and as mentor of the current Te Xuan Ze. It can be accessed through the fireplace by pressing a jade amulet into the right eye of one of the dragons. It is unknown if Te Xuan Ze before Jasmine also used this as a base.
Outside
This is where the outside plot and land surrounding Jasmine's house can be described.
Back Yard
This is where Jasmine keeps her garden. The garden consists of various regular and magical plant-life. It is also where Jasmine oft trains Juniper.
Back Porch
This can be accessed through the back door of the house. It leads to a small boat hanging off a small pier. It is often used for gatherings or for having tea or lunch while resting, used as a normal porch.
References