Jurassic World: Dominion Dominates Fandom Wikis - The Loop
Play Sound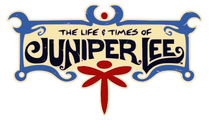 The Life & Times of Juniper Lee is an American cartoon series. It lasted for three seasons on Cartoon Network, debuting on May 30, 2005 and airing it's final episode on April 9, 2007.
The show spanned forty episodes across three seasons with additional six shorts produced after the first season to be aired between channel commercial breaks and bumpers.
All the episodes were directed by Frank Squillace. The crew page is here.
Transcripts for episodes reside here.
Episodes 
No. in

series

No. in

season

Title
Written by
Storyboarded by
Original airdate [1] [2]
Production code
1
1
"It's Your Party and I'll Whine If I Want To"
Judd Winick
Frank Squillace
May 30, 2005 Series Premiere

September 4, 2005

101
June has been doing her Te Xuan Ze business for just over a month, and it's become a real hassle for her. She's managed to flake out on her friends on a regular basis and, has managed to acquire a reputation for being weird. And now, one of her best friends, Jody, is having a birthday party. June gets called away because the Leprechauns have let loose the Racatan. Despite begging Ah-Mah to help out, June is forced to skip the party and save Orchid Bay City again.
2
2
"I've Got My Mummy on My Mind and My Mind on My Mummy"
Judd Winick
Brian Larsen & Fred Reyes
June 5, 2005

September 25, 2005

104
June has to defeat a mummy whose resturant magically attracts every human in Orchid Bay City.
3
3
"It Takes a Pillage"
Tim McKeon
Vincent Edwards & Jason Park
June 12, 2005

September 11, 2005

102
The spirits of Nordic Vikings take possession of June's friends and it's up to her, Monroe, and Ray Ray to get them back to normal.
4
4
"New Trickster in Town"
Marsha Griffin
David Chlystek & Shannon Eric Denton
June 19, 2005

September 18, 2005

103
When pranks start going a bit too malicious on April Fools Day, June must confront Loki the mighty demigod of lies and deceit.
5
5
"Not in My Backyard"
Judd Winick
David Chlystek & Shannon Eric Denton
June 26, 2005

October 2, 2005

105
June and Ray-Ray have to babysit a migrating Batoot.
6
6
"Enter Sandman"
Tim McKeon
Jim Schumann & Jill Trousdale
July 3, 2005

October 9, 2005 [3]

106
June tries out for the school talent show. But she must put her efforts on hold when everyone in the city falls asleep and they become victims of a plot by the Sandman, lord of the sleep realm.
7
7
"Ding Dong, the Witch Ain't Dead"
Marsha Griffin
Vincent Edwards & Jason Park
July 10, 2005

October 16, 2005

107

Many years ago, there once was an evil witch named Auntie Roon who battled the Te Xuan Ze of that time. She was defeated and also banished at the same time. Many years later, a 10th level Warlock has gotten together with a Pus Goblin and an Antelope Snake to release Auntie Roon where the sacred grounds are where the Orchid Bay Mall now stands and aim to gather up every kid in Orchid Bay to eat them.

8
8
"I'll Get By with a Little Help from My Elf"
Tim McKeon
Alex Que & Harry Sabin
July 17, 2005

October 23, 2005

108
June becomes so busy with her duties as Te Xuan Ze that she asks for some assistance in clearing her schedule from a helper elf who is Local 492. But he ends up causing more trouble than he's worth. How can she get her job as the Te Xuan Ze done and finish her serious grounding matters at once?
9
9
"The World According to L.A.R.P."
Tom Franck
Fred Reyes & Brian Larsen
July 24, 2005

October 30, 2005 [4]

109
A team of monsters abduct Dennis to get to the Te Xuan Ze. Fortunately, Dennis manages to hold his own against the monsters, thanks to his role-playing magical knowledge.
10
10
"Magic Takes a Holiday"
Marsha Griffin
David Chlystek & Shannon Eric Denton
July 31, 2005

November 6, 2005

110
June goes to performing arts camp on Edipan. Ophelia is appointed as director of the musical and June's her lead but at the same time, a few trolls plan to kidnap the Te Xuan Ze to outlaw Edipan.
11
11
"Take My Life, Please"
Marsha Griffin
Fred Reyes & Brian Larsen
August 7, 2005

November 13, 2005

111
The good 4th-degree sorceress named Ashley arrives in town while pursuing the Baguano. She volunteers to take over June's responsibilities as a bulwark against the forces of evil. June is tempted to let her. June tries to act normal but everything goes wrong. What will happen next after Ashley accidentally feeds a Fustertroll a cookie?
12
12
"Meet the Parent"
Tim McKeon
Jason Park & Vincent Edwards
August 14, 2005

November 20, 2005

112
When Monroe's father, William, comes to visit, he is not amused at his antics to impress Juniper. William seems to prefer making fun of his son's weight, but he inadvertently causes Juniper to be mistaken as a monster's baby.
13
13
"Monster Con"
Judd Winick
Alex Que & Jill Colbert Trousdale
August 21, 2005

November 27, 2005

Season Finale

113
The three-day magic convention called "the Convergence" has opened in town and June attends it. All monsters go there to hear her speak. But when an evil organization of magic-hating trained humans named H.A.M.(Humans Against Magic) breaks into the convention center and holds everybody there hostage, Ah-Mah is forced out of retirement to save the day.
No. in

series

No. in

season

Title
Written by
Storyboarded by
Original airdate
Production code
14
1
"It's the Great Pumpkin, Juniper Lee"
Adam Pava
David Chlystek & Patrick Kochakji
October 9, 2005
15
Every Halloween all monsters become humans for the night; but a monster called Mark has contracted an agent demon, Vikki Devyne, for make him human forever. Thanks to Vikki Devyne, all the now human monster children are unable to change back into monsters, and the parents turn to June to help. However, she has to make deals from getting a protein shake to wrestling a demon that goes by the name of "Jordan The Destroyer" managed by a Don King-hairdo styled wrestling promoter before midnight, or else they will not turn back into monsters and remain human permanently. Will June do this in the nick of time? 
15
2
"O Brother What Art Thou"
Tim McKeon
Brian Larsen & Fred Reyes
January 14, 2006
14
Ray-Ray tests a growth potion that June has created for a dwarf giant (he's even smaller than Ray-Ray, leading to Monroe and some "little" humor, pun intended), but his experimentation causes a big problem of becoming a magical lizard monster invisible to normal humans and getting bigger by the minute. So June and Monroe try to create a new person and transfer Ray-Ray's brain into it. It works, but the monster has suddenly gotten a mind of its own and wants to eliminate them all. On top of that, the monster keeps growing bigger. Ray Ray doesn't want to banish it, but June tries to battle it. However, the monster overpowers June easily. Will they banish it before it's too late? 
16
3
"The Great Escape"
Marsha F. Griffin
Alexander Que & Jill Colbert Trousdale
January 21, 2006
16
June and her friends are at the zoo, but when two camels speak to her, she suddenly learns from that that they are a group of magical beings trapped in the form of zoo animals because the zoo has a magical barrier. Now June must try to save them from a wicked zoo-keeper who is in reality a female demon named Gigi who drains magical energy from magical folk to stay young, and Gigi turns June into a Ring-tailed Lemur to drain her magical energy. Can Ray Ray and Monroe get there in the nick of time? 
17
4
"Picture Day"
Tim McKeon
Brian Larsen & Fred Reyes
January 28, 2006
17
An evil demoness decides to make an evil photocopy clone of June on picture day at school, to use June's powers to free her father, Kordoth the Conqueror, from magical banishment.
18
5
"Star Quality"
Adam Pava & Judd Winick
David Chlystek & Patrick Kochakji
February 3, 2006
18
After interfering in a television production called "The Wonderful World of Magic", the show's producer decides to make June the star of her own reality television show…without her knowledge or permission. Sure enough the show is a hit, and after she's a superstar on Monster TV (which is located on any channel above 300 in Orchid Bay City's cable system). Even Ray Ray gets into the act, turning into June's manager, but Monroe isn't amused and neither is June, and she wants the show canceled. One problem: they're planning a special in over a billion monster households. Can June cancel the series and the special before it airs? 
19
6
"There's No Mitzvah Like Snow Mitzvah"
Marsha F. Griffin
Alexander Que & Jill Colbert
March 11, 2006
19
During a Wizard of Oz-themed Bat Mitzvah for Jody's sister Rachael, June and the rest of the party are shrunken inside a snow globe by Jean-Claude, an underworld demon and previous elder because he was kicked out for being a traitor. Can June save the day and the party at the same time? 
20
7
"Bada Bing Bada Boomfist"
Tim McKeon
Brian Larsen & Fred Reyes
March 17, 2006
20
One of Ray-Ray's comic book characters, Wrongness, is accidentally brought to life while June is fighting a demon who hits it, instead of June, with a re-animation spell. So while June and Monroe create a potion to make Wrongness (who can overtake any inanimate object to be his new body) into a magical creature to banish him back to the comic book, Ray Ray goes to the demon who animated him to bring Boomfist (the protagonist of the comic and nemesis to Wrongness) into reality. Can the three get the superhero and his formidable foe back into the comic book before Orchid Bay City gets completely wiped off the map? 
21
8
"Adventures in Babysitting"
Judd Winick
Jill Colbert & Alexander Que
March 24, 2006
21
After realizing he doesn't remember it, Jasmine tells Ray Ray and June the tale of how they got their powers while Jasmine was still Te Xuan Ze.
22
9
June's Egg-cellent Adventure: Juniper Lee Meets the Easter Bunny"
Judd Winick
Mike Kunkel & Jill Colbert
April 14, 2006
22
Ray Ray along with June and Monroe are waiting for the easter egg hunt to start but when there are no eggs, they investigate. Ray Ray is surprised about Sweetland while June chats up Marcus through her cellphone. Arriving at Sweetland they discover that Monroe's father William has been rallying the chickens to rebel and protest against the Easter bunnies.
23
10
"I've Got You Under My Skin"
Marsha F. Griffin
Jill Colbert & Alexander Que
May 12, 2006
23
When Ah-Mah is lost because she missed a flight on a dragon to mediate a dispute (which would later turn out to be a trap), Monroe uses a magic stone to make two Junipers but Ray-Ray gets in the way of the blast and turns into Juniper's double so they turn Monroe into a Ray-Ray so their mom won't be suspicious. She has to take her grandmother's place in the negotiations, sending them to school. 
24
11
"Welcome Bat Otter"
Tim McKeon
Brian Larsen & Fred Reyes
June 6, 2006
24
Monsters are scared of a menace called the Bat Otter, so it's up to June to save the day…with some help from Skeeter Khomen-Ghettit's anti-Bat Otter kit, that is. When June finds out its just a scam to make money, will she be able to expose the truth? 
25
12
"Dog Show Afternoon"
Judd Winick
David Chlystek & Brian Larsen
June 15, 2006
25
When June's family plans to go on vacation, she signs up for a trip to Space Camp in California, but she must catch a mysterious creature called a Bombat before she can leave Orchid Bay. To do so, June must enter Monroe in a dog show. Unfortunately, she also learns a terrible price to being the Te Xuan Ze.
26
13
"Dream Date"
Marsha F. Griffin
David Chlystek & Peter Kochakji
June 20, 2006
26
June and Marcus go to the school dance, but Steven the Sandman has other plans for them as he plans to return to the Dream Realm. 
27
14
"Party Monsters"
Marsha F. Griffin
David Chlystek & Peter Kochakji
August 18, 2006
27
At Jasmine's birthday party, her relatives turn into monsters, thanks to a well-meaning but incompetent old friend and a magical orb. How can Jasmine and Juniper stop this before the entire house turns into creatures? 
No. in

series

No. in

season

Title
Written by
Storyboard by
Original airdate
Production code
28
1
"Who's Your Daddy?"
Marsha Griffin
David Chlystek & Jill Colbert
August 24, 2006
302
Marcus becomes envious when a new student named Taylor Evermore who Juniper begins to fall for. Unfortunately, Taylor happens to be the son of Loki, who is trying to use the power of the Te Xuan Ze to get him out of imprisonment.
29
2
"Water We Fighting For?"
Tim McKeon
Fred Reyes & Alex Que
August 30, 2006
303
The magical water from Orchid Bay is disappearing at an alarming rate when a water company is draining it. Juniper heads to Aqualandia to seek out its king to fix the problem before Orchid Bay is capsized. 
30
3
"Feets Too Big"
Judd Winick
Patrick Kochakji & Jennifer Coyle
September 8, 2006
304
June and Roger's family are enjoying a camping trip until both their parents including Dennis are kidnapped by the legendary big foot. Juniper, Ray-Ray, and Monroe are on the search and they meet a new friend along the way named Lila. the Sasquatch. 
31
4
"Citizen June"
Marsha F. Griffin
Jill Colbert & David Chlystek
September 15, 2006
305
June runs for class president. When June and her siblings perform on stage for the second time, they resemble the hard rock band, KISS. Thor returns when he pursues a Vindolf Hobgoblin to her school which it's hiding in. If the Vindolf Hobgoblin isn't found soon, Thor will destroy the school to take out the monster. 
32
5
"Make Me Up Before You Go-Go"
Michael Jelenic
Fred Reyes & Alex Que
September 27, 2006
306
June is helping Lila the Sasquatch learn to fit in by taking her to a slumber party at Jody's house. However, a pint-sized monster called a Monotuke is using an incoming comet to summon a pair of powerful monsters called Unglian Banticores. 
33
6
"Out of the Past"
Marsha F. Griffin
Patrick Kochakji & Brian Larsen
September 29, 2006
307
A former Te Xuan Ze by the name of Kai Yee, the greatest that ever lived, is released from suspended animation and is bent on destroying the Elders as he had tried two hundred years ago. Ah-Mah is concerned that Juniper will become corrupted like him and has Monroe lock her up in the house.
34
7
"Sealed with a Fist"
Eric Kentoff
Dave Chlystek & Jill Colbert
November 3, 2006
308
Dennis finds June's Invasion of the Inanimations book and using his own comic book as a test subject, accidentally brings the Legion of Villanous Evildoers (L.O.V.E.) to life, wreaking havoc on Orchid Bay. As Dennis tries to make it up to June, Ray Ray brings back Boomfist and with Dennis his hero compadres to life, but is it enough to stop L.O.V.E.? 
35
8
"Little Big Mah"
Kevin Seccia
Fred Reyes & Alex Que
November 10, 2006
309
Ah-Mah is made younger by a Darnock Demon, and now June has to help her turn back and stop the Darnock Demon from absorbing the power of the Elders.
36
9
"Te Xuan Me?"
Judd Winick
Patrick Kochakji & Rafael Rosado
November 24, 2006
310
When June and all of her classmates mysteriously disappear not only from space but from time, Ray-Ray, who is the Te Xuan Ze in this new reality, and the only one who remembers June was even real, must substitute for her while trying to convince everyone that June and her classmates existed and that he's not crazy. 
37
10
"Food for Naught"
Eric Kentoff
Dave Chlystek & Jill Colbert
December 1, 2006
311
June investigates as the monsters in Orchid Bay City become fierce beasts. When she discovers that the source of this is in the Runey Stix snack food, she tries to persuade the snacks' creators, a pair of demons named Margie and Eloise to stop adding Tarabok Weed (the secret ingredient and also what's causing the transformations) in them. Will she succeed? 
38
11
"A Helping H.A.M."
Tim McKeon
Alex Que & Fred Reyes
December 15, 2006
312
Fed up with the lack of respect, Monroe joins the secret organization known as H.A.M. when he is accidentally captured instead of June. Can June and Ray-Ray find Monroe before he ends up training a Zolera Beast? 
39
12
"The Kids Stay in the Picture"
Kevin Seccia
Patrick Kochakji & Rafael Rosado
February 6, 2007
313
Ophelia wants June and her friends to be in her student film as Kordoth's Daughter plots to escape Barandom. 
40
13
"Every Witch Way But Loose"
Marsha F. Griffin
Dave Chlystek & Jill Colbert
April 9, 2007
314
The origins of the magical veil that separates the mortal and magical worlds are finally revealed, as is how the mighty Te Xuan Ze came to be. When Auntie Roon uses her evil magic to turn Juniper into a vicious monster, she is forced to break the three mythical touch stones that maintain the Veil and the existence of magic and its creatures hidden from mortals.

With Ah-Mah out of commission, it's up the Ray-Ray, Monroe and Dennis to return Juniper to normal before Auntie Roon exposes the world of magic to all.
No.
Title
Original airdate [5]
Production code
S1
"Monsters in My Potion"
December 28, 2006
S1
June finds Ray Ray and Monroe tied upside-down with three monsters brewing something in the cauldron. She fights the monsters and dumps the cauldron. Later, another monster comes out from the bushes with a bag of groceries. June realizes that the monsters weren't going to cook Ray Ray and Monroe. So they sit down at the picnic table, and enjoy the soup. Ray Ray is still tied upside-down. Then Monroe puts an onion in Ray Ray's mouth to shut him up. 
S2
"The Bus Stop"
January 2, 2007
S2
June is waiting at the bus stop with Jody and Ophelia. The two-headed nerd creature shows up and starts bothering June to take a picture with her. Jody and Ophelia look at June as if there's something wrong. When the two-headed nerd stops disturbing June, she goes on the bus, and finds more monsters who want to take a photo of her. 
S3
"Just a Second"
January 5, 2007
S3
While June is waiting for Ray Ray to come downstairs, Ray Ray tries to fight off a monster in his room. He keeps throwing magical jars at the creature as it grows bigger. June calls Ray Ray to come downstairs, but Ray Ray keeps saying "Just a second" while fighting off the beast. 
S4
"Nice Weather"
January 6, 2007
S4
While June is brushing her hair to look nice on a date with Marcus, Ray Ray comes in her room and tells her he accidentally released the giant mucus troll in the living room. June tells Ray Ray to distract Marcus at the door while she fights off the creature. 
S5
"Beach Blanket Monroe"
January 6, 2007
S5
As June is relaxing at the beach, two creature kids with five-eyes throw Monroe around like a football. She rescues Monroe, but keeps the monster kids happy by giving them Ray Ray to throw around, much to his pleasure. 
S6
"Big Monster in My Backyard"
May 14, 2007
S6
When June misplaces her magical Te Xuan Ze bracelet, Ray Ray and Monroe unleash a monster in the backyard in order for the bracelet to go off so June can find it. 
References